Permanent Representative of Belarus Participates in the Special ECOSOC Meeting
26.05.2016
Special meeting of the United Nations Economic and Social Council on the role of the UN development system in middle-income countries (MICs) took place at the UN headquarters in New York on May 26, 2016. The event was held in response to the UN General Assembly resolution on MICs adopted with the active participation of Belarus.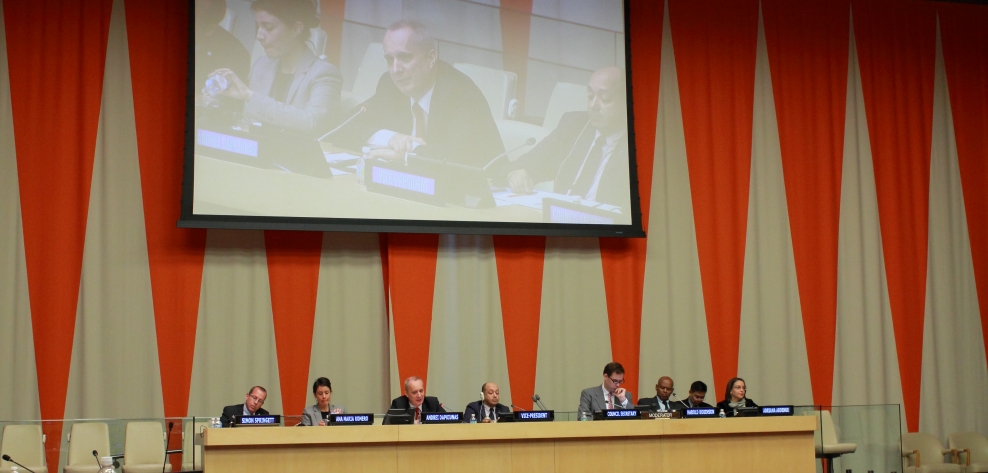 According to the World Bank classification (http://data.worldbank.org/income-level/MIC), the category of middle-income countries comprises more than a hundred countries from around the world. Belarus is among the top sub-category of upper-middle-income countries. These countries are home to most of the world's population. According to international estimates, MICs account for more than a third of global GDP, a quarter of world's exports and imports. About 70% of the world's poor live in these countries.
As one of the keynote speakers at the event, the Permanent Representative of Belarus to the UN Mr Andrei Dapkiunas presented a vision of the place and the role of this category of states in achieving global sustainable development. Referring to the example of Belarus Mr Dapkiunas expressed confidence that further progress in middle-income countries will show how successful will be the implementation of the sustainable development agenda adopted at the UN Summit last year.
According to the Belarusian diplomat, the United Nations should be ready to a greater extent than today to make use of the potential of MICs in the global development. This requires a separate coordination mechanism involving all elements of the UN system in order to facilitate the provision of international assistance to these countries as well as to use their experience for the benefit of global sustainable development.
Belarus is actively advocating interests of middle-income countries at the international arena. In March 2016 Belarus and several other countries initiated establishment of the informal group of informal group of active supporters of interests of middle-income countries in the UN (http://mfa.gov.by/en/press/news_mfa/b68ddc21d7754faa.html). During last few years, Minsk hosted two regional conferences on various aspects of sustainable development in MICs. Belarus will continue attracting increased attention of the UN system to the development challenges of middle-income countries.