Deputy Minister Valentin Rybakov participates in the meeting of the United Nations Inter-Agency Task Force on Chernobyl
11.04.2016
On April 11, 2016, at the UN headquarters in New York Deputy Foreign Minister of Belarus Mr Valentin Rybakov took part in the meeting of the United Nations Inter-Agency Task Force on Chernobyl (IATF).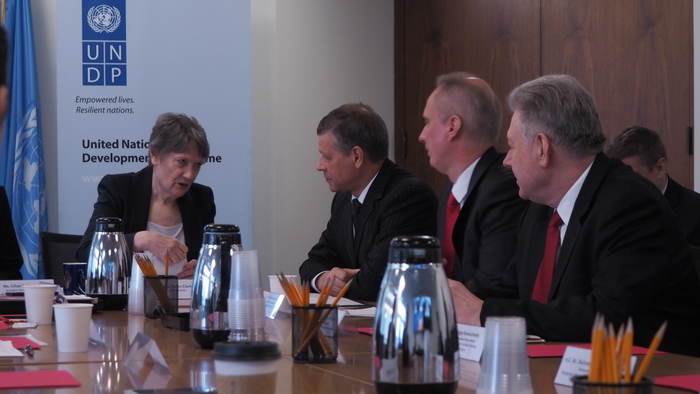 IATF on Chernobyl coordinates activities of the United Nations agencies, other international organisations and interested countries related to international Chernobyl cooperation. The Task Force is chaired by Administrator of the UN Development Programme Helen Clark. It is comprised of over ten international organisations including UNDP, IAEA, WHO, UNEP, FAO, World Bank. The three most Chernobyl-affected countries, Belarus, Russia and Ukraine, are permanent participants of the group.
Participants of the meeting reviewed main achievements of United Nations international Chernobyl cooperation in recent years. In view of the approaching 30th anniversary of the tragedy IATF discussed proposals for organising multilateral cooperation in this area for the period after 2016. A number of proposals had previously been prepared within the expert process, with its final meeting held in Minsk last February.
During the meeting Deputy Minister Valentin Rybakov drew attention to the idea put forward by Belarus, to adopt and implement after 2016 the initiative on "Achieving Sustainable Development Goals in the Chernobyl affected regions through partnerships, innovations and investments". Belarusian representative also proposed to retain the UNDP coordinating role in international Chernobyl cooperation and to continue the work of the IATF as needed.
In the coming days a number of activities to mark the anniversary of the Chernobyl accident will be held in the UN on the initiative and with the participation of Belarus. Belarus will organise a thematic photo exhibition at the United Nations Headquarters. On the day of the thirtieth anniversary of the tragedy UN General Assembly will hold a special commemorative meeting.