Permanent Representative of Belarus to the UN Andrei Dapkiunas speaks on behalf of the Group of Eastern European States at the UN GA Meeting in observance of the 30th Chernobyl anniversary
26.04.2016
At the commemorative meeting of the General Assembly in observance of the thirtieth anniversary of the Chernobyl catastrophe, the Permanent Representative of Belarus to the UN Andrei Dapkiunas made a collective statement on behalf of the Eastern European Regional Group. Belarus presented the statement as chair the Group in April 2016.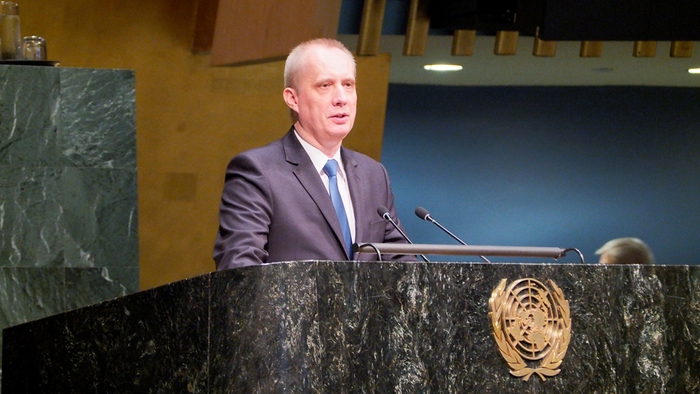 In its joint statement the Eastern European Regional Group drew the participants' attention to the long-term efforts of both individual countries in the region and the world, as well as of the United nations as a whole to unite international actions to overcome the consequences of the disaster. The Group also stressed that the United Nations efforts to coordinate the Chernobyl cooperation constitute an investment in the future, an example of cooperation for sustainable development, safety, technological risk reduction.
Speaking at the meeting, delegations of the most affected countries and chairs of the UN regional groups, as well as the host country, noted the importance of the anniversary for the international community as a reminder for the need to have dialogue and cooperation in order to overcome the consequences of the Chernobyl accident.