Home › Permanent Mission › News
Delegation of Belarus participates in the First Committee of the UN General Assembly
October 10, 2017, Belarusian delegation at the First Committee of the 72nd session of the UN General Assembly spoke at the UN headquarters in New York on behalf of the member states of the Collective Security Treaty Organization (CSTO) with a joint statement on the issues focused on ensuring the comprehensive global stability.
CSTO is a regional international organization established in 2002 and now comprises Armenia, Belarus, Kazakhstan, Kyrgyzstan, Russia and Tajikistan. The main objective of the organization is to strengthen close and comprehensive relations in the foreign policy, military, military-technical spheres, coordination and joint efforts in combating international terrorism and other security threats.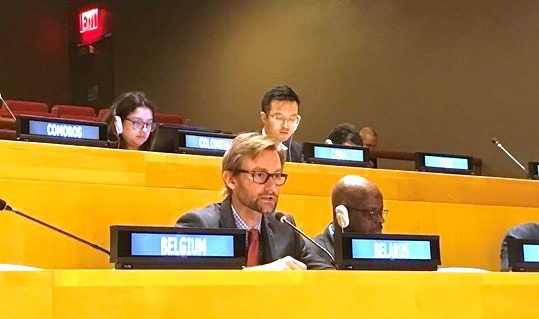 The statement reaffirms the joint position of the CSTO member states on the adherence to the policy of trust, constructive dialogue and fair cooperation for ensuring the international peace and security.